The David Bach Consort
The David Bach Consort has been seen performing at the historic Blues Alley, Jazzmatazz with BB King, Washington's Taste of DC, Artscape, Jazzy Summer Nights or the Rossylyn Jazz Festival. The David Bach Consort is a spirited eclectic group of artists that excites crowds with their unique musical entertainment.     Click to See and Listen to David Bach Consort.
David Bach Ensembles (Quartets, Trios & More)
David Bach and the David Bach Quartet, Trio or Duo are available to perform in multiple configurations for your Corporate or life event. Whether your event is more intimate and better suited for a smaller ensemble, or of a grander scale, contact us. We would love the opportunity to co-create the perfect soundscape and soundtrack for you.
Over the past 8 years, we have performed countless concerts, festivals, corporate and private parties, clubs, weddings, engagement parties, bar mitzvahs and other events. We have a large repetoire of R&B, Pop, Rock, Standards and traditional jazz tunes.          Click To See and Listen to David Bach Ensembles
David Bach Solo Performance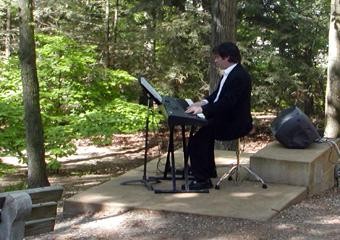 Nothing speaks to a heart like solo piano. Consider David for your wedding reception, cocktail hour. or venue when you need to strike the perfect balance of entertainment and ambiance. David Bach specializes in all types of musical events. His diversity and ever-growing song list means perfection for your concert, festival, corporate function, private event, tailored wedding, or special event, customized to your specific needs.  David will personally work with you to put together an entertainment experience that you and your guests will never forget. Click to See and Listen to Solo Work
David Bach and DB6 (vocals)
I now do weddings and events with vocals.  David Bach and DBC is a great group for your party.  I  initially created this group to get booked at Horseshoe Casino, doing a creative pop jazz DB4 with vocals, keys, bass and drums.  We are now doing lots of vocal events, weddings, corporate and private parties!
Click to See and Listen to DB8
---