---
Otherworld
To preview a song, mouse over the title and click to Play.
Click any cart icon to purchase a single.
Update Required
To play the media you will need to either update your browser to a recent version or update your
Flash plugin
.
---
Reviews and Raves about David Bach's "Otherworld"
---
   Otherworld, Bach's fifth record as leader and his fourth in the studio, is a testament to his growth as a player, composer, and producer. Just as Bach's moody interfacing of classical, R&B, and improvisational influences distinguishes him from all the smooth jazz clones, despite its deep jazz roots, so too does a fine balance of effervescence and robustness distinguish it from its predecessors. His European tenure shines through in the slick opener "City Lights" and its companion "There and Back," both of which show his innate comfort with evocative atmospheres. From note one the latter especially places Bach squarely among likeminded instrumentalists such as Eberhard Weber and Jan Garbarek, minds who turned the jazz paradigm inward and brought it back to the melody. In this sense Bach is a luminescent storyteller, his playing evocative and precise. His pianism is front and center throughout, fleshed by equally descriptive contributions from his world-class band mates. By those musicians Bach has been as blessed as he is with talent.
---
OTHERWORLD on the CMJ Top 40 Jazz Chart at #28.
---
Thank you so much for the copy of your new CD, Other World ! I am sitting here with a glass of Chardonnay, relaxing and listening to it right now. I'm loving it !! NICE 🙂 Job extremely well done "as usual" DB !!!      Hope our paths cross soon.. Tony
Love your new CD David! Everyone needs to get one! It's extraordinary!  
Mary Ellen
Keyboard master david bach goes for the elegant retro funk vibe. some of the best cues include cville's own bobby read on horns; leonard stevens on guitar; mark prince on drums. very much a "produced" studio CD with lots of guests, mostly originals– but terrific cover of with or without you. 91.1 FM WTJU Jazz

Just got ours today! It looks FANTASTIC (and sounds amazing!)    Todd

---

5.0 out of 5 stars The ever popular David Bach returns!
October 26, 2013
By Grady Harp
This review is from: Otherworld (MP3 Music)
Nothing demanding here, just fine music that will raise as much nostalgia for the days when melodies were important. Not that there is anything unoriginal about the music of David Bach – he does have his own sound. "My parents never had to ask me to practice," says David Bach of his formative encounters with the piano. "I just sat there and learned the stuff, and people started responding to what was happening. That was all the inspiration I needed to keep going." And keep going he certainly has. The versatile keyboardist and composer is a musician of many stripes. As an Air Force brat, Bach's childhood was a chain of stopovers, during which time he was lucky enough to study under a host of rigorous teachers. Once he came of age, Bach found himself getting into progressive rock, which strengthened his resolve to compose. Having lived for a time in Europe when the genre was at its popular peak, his return to the States brought about a eureka moment: "Europe was a great experience, because most of the bands you heard live were doing original music and now I was really hearing jazz for the first time."

---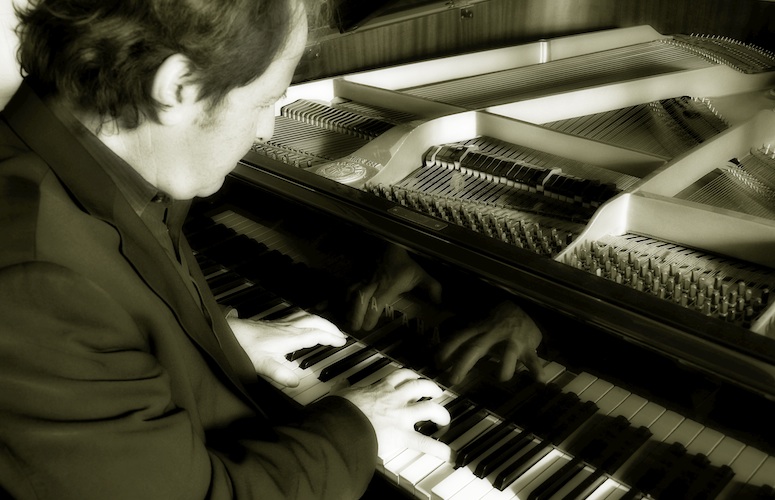 David Bach – keys
Bobby Read – soprano sax
David Marq wells – soprano sax
Lorenzo Sands – bass
Jimmy Charlsen – bass
Mark Prince – drums
John Thomakos – drums
Leonard Stevens – guitar
Jeff Reed – upright bass
Andy Shriver – guitar
Al Williams – flute
Karla Chisholm – voice
Ekendra Das – percussion
Edgar Montalvo – percussion
Katie Chambers – cello